"To anyone saying I'm portraying police in a negative light I would tell them police are portraying themselves in a negative light" – Vic Mensa
Released on his 2016-album, 'There's A Lot Going On', Vic Mensa documents and discusses the tragic killing of Laquan McDonald in 2014 via '16 shots.' In 13 seconds, McDonald was shot 16 times by Chicago police officer Jason Van Dyke. A judicial verdict has still not yet been reached.
McDonald's killing took place two years ago but Mensa recognises its pertinence in our present as he calls for action against the judicial and police systems within America. In his Reddit AMA Mensa stated, 'as citizens we have to be able to elect officials that prosecute police officers for their crimes.' As well as artistically addressing the need for action through his lyrical content, Mensa has made the consummation of his album synonymous with activism by making it available for free download if one registers to vote in their local election.
"1,2,3,4,5,6,7,8,9,10,11, f*ck 12"
By interpolating Public Enemy's 1991-released 'Shut 'Em Down', Mensa's counting hook finds strength in former Hip Hop greats that have also connected their art to protest. '12' is understood as a slang term to describe police presence. Mensa's repetition of 'f*ck 12' is reminiscent of N.W.A's 1998-anthem 'F*ck tha police.'
Mensa powerfully recalls his own interaction with the police's use of violence against citizens' protest. He recounts witnessing how police threw 'a little girl down on the pavement/ Pushed her with the bike and said, "Stay out the way, bitch"' during a protest against Laquan's killing in Chicago. Mensa states that, 'this is what happens when n*ggas don't stay in their places.' Through a personal experience, Mensa connects the death of Laquan McDonald to the violence carried out towards protestors to theorise the reality of a systematic racial hierarchy.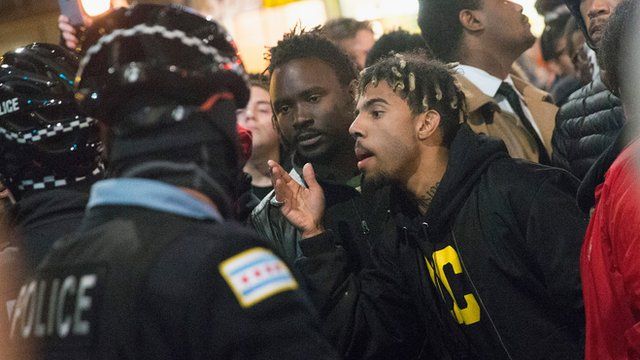 "Ready for the war we got our boots strapped/100 deep on State Street, where the troops at?"
Although Mensa speaks of events which happened in 2014/15, '16 shots' is written in the present tense; the now. Mensa refers to the Chicago March on State Street protest as if it is taking place as you read this sentence – perhaps, theoretically, it actually is. Considering the consistent movements that have taken place prior to McDonald's tragic death and movements which have continued to take place following. '16 shots' can be understood to highlight the movements' unwavering need, until genuine systematic change has come to fruition.
Some have understood Mensa's lyrical alignment to war to incite or implicate a need for armed violence in order to protest. However, I would argue that Mensa uses war to describe the reality of what he is witnessing and to encapsulate the mass scale at which members of the black community are losing their lives at the hands of the justice system. When asked whether he believes violence to be the solution via his Reddit AMA, he stated: 'it's tough. I think the solution to this sh*t will not be in violence but when you beat a people down through violence long enough, eventually they will turn the guns on you.'
"I just made a mil' and stay militant"
When Lil Wayne recently appeared to not associate himself with the Black Lives Matter movement via an interview, Mensa spoke against this. Mensa branded Wayne's position to be 'ignorant, selfish and isolated' because 'even someone as big as Wayne is just a black man minus all of his ice and fame, and can be treated the same way.'
No one is exempt from the call to action that is '16 shots.' Mensa does not understand the power to overcome police brutality and judicial injustice to be in wealth, fame or social positioning. Lying in the centre of the music video, Mensa is captured lying to appear dead on the ground surrounded by his own chalk outline and several more which cannot all fit inside the frame. This poignant image sits amongst a collage of other injured black bodies – including the actual dashboard footage of Laquan McDonald's killing. The overwhelming back and forth cuts between Mensa and McDonald creates an indistinguishable connection between those who have and those who have not survived the police justice system, an indistinguishable connection between the living and the dead.
"This ain't conscious rap, this sh*t ignorant, n*gga, hair trigger."
Despite releasing a powerfully poignant and direct lyrical and visual track, Mensa does not claim to know all of the answers. By rejecting the label of a conscious rap artist, Mensa suggests that coming into a consciousness of one's identity and systematic surroundings is no longer (if ever) enough. It is interesting to see how Mensa consistently claims the label of ignorance. Perhaps Mensa is redefining ignorance to no longer mean ignorance to knowledge, but ignorance to the seemingly definite codes of oppression which have allowed for continued police brutality. His declaration of being 'hair trigger' is an exclamation of reaction and immediate action.
With hugely popular recent releases such as Kendrick Lamar's 'Alright', Beyoncé's 'Formation' and Solange's 'Don't Touch my Hair' (to name a few) it is important to remember that there is not a cookie cutter image for protest through art. Mensa has created a piece of phenomenal strength yet tangible vulnerability as he works through his concerns and fears for others' lives, including his own. Through '16 shots', Mensa has lyrically and visually aligned himself with the many anthems that have been fuelled by and provide fuel for protest and change.